Unsalted Pistachios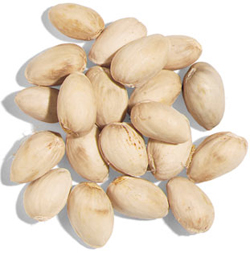 The doctor just told you that you have to undergo a salt-restricted diet. If you are a pistachio nut lover you might be alarmed hearing this advise, but worry not. With unsalted pistachios, you can follow your doctor's advice and have your pistachio nuts at the same time. Unlike most pistachio nuts that are salted and have high sodium content, unsalted pistachio nuts have high potassium and low-sodium content that helps maintain the water balance in our body, strengthen our muscles and normalize the blood pressure. Pistachio nuts, like all nuts, are a good source of protein; plus they are cholesterol free, low in saturated fats and high in fiber.
Choosing Your Pistachio
Unsalted pistachio nuts come in two types: the no shell pistachio and the one with shell. If you are out to buy the unsalted pistachio with shell, you should look for the green to nutty colored shell. Pistachios shells most often get stained and blemished during harvesting, which is the reason why the United States importers usually apply a non-toxic red vegetable dye to make it more appealing to the consumers. So, if you see those pink or red colored pistachio nuts shells, know that it only means that they have gone through the process of dying.
Where to Get Unsalted Pistachios
Getting unsalted pistachio nut is not hard; in fact you can get them delivered right to your doorstep with so many online stores carrying such products. Some of them are the following:
Oh! Nuts! – A one stop shop for everything in dried fruits, nuts, chocolates and candies – even those hard to find items like organic and sugar-free products are available here. All their products are certified to pass the quality standard of Kosher laboratories. You can get your favorite unsalted pistachios in shell for only $7.99/lb. Give them a call at (888) 664-6887 to answer your queries about their products or visit their website online.
Schaad Family Almonds – Since 1991, they are into selling of almonds and pistachios. And having their pistachios cultured in their own farm at California, they assure you that your order will be delivered fresh to you. They are also known for producing extra large size pistachios. Contact them online or call them at (559) 846-9660.
San Luis Obispo Farm – They've been growing pistachios nuts for over thirty years and can guarantee you the plumpest, tastiest and freshest nuts that are made available directly from their own farm. Get your unsalted pistachios in shell for only $6.50/lb by visiting their website online.
Nutsonline – "We're more than just nuts", Nutsonline says, and it seems they are true to their words. They have been in the business sine 1929 and guarantee you of your satisfaction with their unsalted pistachios and other products. They offer three types of unsalted pistachios: roasted unsalted pistachios in shell for $8.99/lb, roasted unsalted pistachios no shell for $14.49/lb, and the roasted organic pistachios in shell for $9.99/lb. You can visit their website or call them at (800) 558-6887 or drop by at their store at 125 Moen Street Cranford, NJ 07016.