Mauna Loa Nuts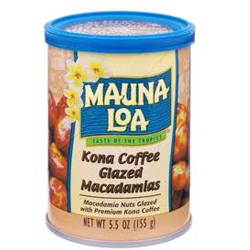 Macadamia nuts are a very tasty and very popular treat. Mauna Loa nuts are known for their perfect taste and texture and are offered by a number of retailers around the world. Mauna Loa macadamia nuts come from Hilo, Hawaii and are specially grown in the area. They are of such high quality that they are currently the one and only macadamia nut brand that the Hershey Company will use in any of their candies and confections. Hershey's chocolate covered macadamia nuts are in fact some of the most desired and chosen confections in the world.
Macadamia Nut Health Benefits
Macadamia nuts pack a wealth of healthy benefits in each bite. They have been proven to be higher in monounsaturated fats, potassium, iron, niacin and many other essential nutrients than any other nuts. The oil from macadamia nuts is used in many areas for cooking due to the essential nutrients and it has a high smoking point of more than four hundred degrees which makes it a non-volatile choice for cooking. The oils are good for your skin as well as other areas of the body and since macadamia nuts are so tasty, many people enjoy eating them for the health benefits, particularly when combined with other tasty delights such as chocolate or when used in baking a variety of dishes.
Mauna Loa Factory
The Mauna Loa nuts factory is located in Hilo, Hawaii and has been producing perfect macadamia nut crops since the early 1950s. The first tree was planted in the area because of the rich volcanic soil and the consistent warm temperatures in the area. Although it was nearly ten years before the trees began producing, since that time Mauna Loa nuts have become the most sought after in the world. Each year the factory produces thousands of pounds of these delicious nuts for use in recipes and snacks in households all over the world.
Where to Buy
You can purchase Mauna Loa nuts at a variety of online and offline retailers. Many supermarkets and smaller grocery stores off the brand as well as several websites. If you are searching for chocolate dipped or other confections made from this brand you can simply visit the Hershey Company site or a retailer that offers Hershey chocolates and other candies. Many websites offer varieties of the macadamia nuts such as six packs with various flavors including onion and garlic, chocolate covered, salted and plain. If you plan to purchase online be certain that you are getting quality and original Mauna Loa nuts. You can search various websites for prices as well as a variety of nut choices. The nuts make wonderful gifts particularly around the holiday season when most people enjoy baking with them. You can do a quick online search and likely see thousands of results from sites that provide these delicious nuts as well as other choices. The cost will depend on the weight that you purchase and may also vary depending on the specific retailer from which you purchase.