Superior Nut Company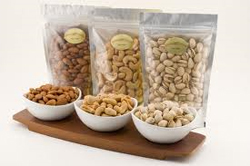 Of all the companies in the world that supply various tree nuts, Superior Nut Company is among the most famous. The company began back in 1929 and became incorporated in 1933. Since that time, Superior Nuts have become a common household name in many areas. They provide high quality tree nuts in a variety of types and flavors to retailers and consumers around the world. While their earlier days had them supplying their products to only variety and drug stores, Superior Nuts today are found in virtually all grocery stores and supermarkets in the nation as well as many online retailers and shops.
Selection
Superior Nut Company offers a wide selection of choices when it comes to satisfying your taste for tree nuts. From pistachios to chocolate covered almonds, they have something for everyone. Their selections include many nut assortments in various tins and containers as well as gourmet nuts, nut butters and premium dried fruits. They provide beautiful gift baskets for many different occasions and their most popular products include giant whole cashews, mixed nuts, pecan caramel chocolate turtles and their very famous Australian glazed apricots that go deliciously with their cashew selection. You can visit their official website to get an idea of the variety of nut gift boxes, gift tins and towers and the nut gift baskets that they offer. Baskets and towers make an excellent choice for corporate events or for those on your holiday gift list that seem to be hard to buy for.
Healthy Options
Superior Nut Company also offers many healthier varieties of nuts and various dried fruits. They provide organic nuts which are without any chemical use during their growth process as well as dried fruits that have no additional sugar added. Pumpkin seeds and sunflower seeds are also popular choices by Superior Nut customers who are looking at healthier eating options. Other foods that they offer that meet certain health requirements include a number of dried fruits such as Goji berries, ginger slices and apricots.
Buying in Bulk
If you are a business or need more than the average person then you can purchase Superior Nut Company products in bulk. They provide a variety of options for corporate events as well as restaurants and bakeries to get the nuts and other foods that they need at lower than average bulk prices. And, since the company is well known for its quality foods you can be sure that your customers will appreciate the choices that you have made.
Cost
The cost for Superior Nut Company nuts and other foods will vary depending on the retailer that you choose. You can purchase directly from the website or you can find a number of retailers that offer various products from the company for sale. Average prices run around $20 or so for a selection of nuts and dried fruits but depending on what you purchase you can spend as much as $200 or more for a large tower selection that contains many different types of nuts and fruits.