Healthy Snacks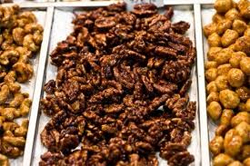 Snacks are some of the tastiest foods we eat – and why not, they are usually eaten just for taste, and not for their nutritional richness. The latter fact also means that much of the snacks we eat are not healthy for us, or are not as healthy as we would like them to be. Many a times we end up eating calorie rich snacks when we want to be losing weight, snacks with saturated fatty acids when we do not want trouble for our heart, and other such snacks that are just not suitable for us. If you are one of those who are stuck with old habits, and eat snacks without taking care of whether they are good for you or not, we have a lot of suggestions of some healthy snacks for you here.
All of these snacks are below 100 calories; also none of them are processed snacks. You will make them at home, and we have the recipes for just that.
Strawberry Sandwich
Ingredients: 2 teaspoon farmer cheese; 1/2 teaspoon honey; 3 strawberries, sliced; black pepper, ground coarsely; dense 3-grain bread
Steps to make: Â Spread the farmer cheese on the bread. Place the sliced strawberries on top of the bread, and drizzle with honey. Add black pepper if you so desire. Your strawberry sandwich is ready. Cut it in half, and enjoy this healthy snack.
Calorie content: The total calories in this healthy snack are about 104, where the calories from fat are just 18.
Peanut Butter Banana and Apple Bites
Ingredients: 2 thins apple slices; ¼ banana, sliced; 2 teaspoon peanut butter; 1/8 teaspoon sugar; 1/8 teaspoon cinnamon; 14 blueberries (optional)
Steps to make: Spread peanut butter on the apple slices, after placing the latter on a flat surface. Top with banana, and then sprinkle them with sugar, cinnamon, and if you so desire, blueberries. Â Â Â Â Â Â  Â 
Calorie content: This healthy snack contains a total of 95 calories, of which 49 comes from fat. It contains 0 cholesterol, and 1.7 g of dietary fiber.
Apple Chips
Ingredients: 2 tablespoon sugar; 4 granny smith or tart apples, sliced; ground cinnamon, ground
Steps to make:
Preheat the oven to 250 degrees Fahrenheit; also line two baking sheets along with parchment paper.
Put cinnamon and sugar in a bowl and mix them well. Add apple slices to this mix and toss them well till they are coated on all sides.
Pour the apple slices onto the baking sheets, and bake them until they are brown lightly. When done, set them aside to cool, and then pack them. They are ready to be consumed.
Calorie content:Â Â Â Â Â Â Â Â Â Â Â Â Â Â Â  Â is 100 calories, of which 2 calories are from fat. It contains 0 cholesterol, and 26.7 g carbohydrates.
Other Healthy Snacks
The secret to making healthy snacks is using healthy ingredients. Here we used fruits, which are rich in vitamins and minerals, and fiber, and do not have as much calories as your normal processed snacks. Nuts can also make for healthy snacks – they are rich in monounsaturated fatty acids; but as compared to fruits, they are relatively high in calories. This makes for a health snack that can be had after a workout.