Chocolate Covered Macadamia Nuts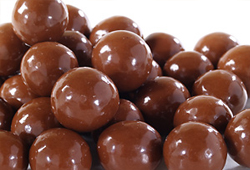 Chocolate covered macadamia nuts are a favorite indulgence of many. Macadamia nuts themselves are very healthy and provide a number of benefits. When combined with the delicious taste of chocolate they become a temptation that many simply cannot pass up. There are many baskets and other containers offered with these delicious treats at many stores throughout the year. During the holiday season they become very popular, so much so in fact that some retailers have been known to sell completely out.
Health Benefits of Macadamia Nuts
Macadamia nuts are very nutritious as they contain a wide number of essential nutrients. They are very high in monounsaturated fats as well as niacin, thiamin, protein and many other nutrients that aid in overall general health. If you have never tasted a macadamia nut then you are simply missing out. They offer a deliciously light taste that blends well with other foods such as white chocolate and milk chocolate. White chocolate macadamia nut cookies are said to be one of the most favored cookie types in the world. The macadamia nut also provides various benefits to the skin. It has been compared to mink oil in its healing properties and provides oxidative properties with a variety of palmitoleic acids that help the skin to retain its elasticity.
Chocolate
Of course most people know the health benefits of chocolate as well as the delicious taste. When combined with macadamia nuts, chocolate becomes virtually dreamful. Chocolate covered macadamia nuts can be purchased at many specialty confection shops or at a number of online retailers. You will find many choices regarding the types of chocolate used such as white, milk and even dark chocolate which has its own health and healing properties.
Cost
The cost for chocolate covered macadamia nuts will vary depending on where you purchase them, the quality of the products that you purchase and the size of container. Typically, a pound costs anywhere from $20 to more than $50 again depending on the producer and the quality of the nuts and chocolate. If you want the highest quality then you should expect to pay a premium price. However, many online retailers offer very low costs on chocolate macadamia nuts as well as other candies and confections. If you are shopping online simply be sure that you are purchasing from a reputable retailer. You want to be certain that the candies you purchase are fresh and made with quality ingredients. Alternatively you could always simply purchase the chocolate and the macadamia nuts yourself separately and then dip them at home. Most people however simply do not have the time for this luxury and prefer to purchase their chocolate covered macadamia nuts from a reputable producer. When ordering online remember that you will have to pay a shipping charge. If you want to find the lowest price you can browse a few different sites that offer this product and then simply choose the lowest price while ensuring that you are getting quality foods. Macadamia nuts by themselves are very tasty treats but when combined with rich milk chocolate they become simply decadent. Look for these treats at a number of online specialty stores as well as traditional candy and specialty shops in your area.