Wholesale Macadamia Nuts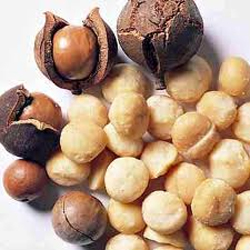 Macadamia are a type of small evergreen tree that grows up to a height of 2--12 meters. Of the nine species in its genus, only two are edible, the rest being poisonous or just plain inedible. It is these two species that produce the macadamia nuts, which are known for their flavor and nutritional properties. With prices sometimes as high as twice that of cashews, there is a great demand for these nuts from people all over the world. In the following paragraphs, we talk about the nutritional uses and qualities of macadamia nuts, and where you can find wholesale macadamia nuts.
Nutritional Facts about Macadamia Nuts
Like most plant-based food, macadamia nuts do not contain any cholesterol. Their calorific content is comparable to that of other nuts – a single macadamia nut contains about 18 calories of energy. Compare this to the walnuts, each of which has about 27 calories.  Another nutritionally interesting fact about Macadamia nuts is that they have a very high ratio of monounsaturated fatty acids, close to 86% by weight of macadamia oil. Always remember their higher energy content before you use them in your diet – unless used wisely, they can add extra calories to your daily intake without giving as good results.
Buying Wholesale Macadamia Nuts
Though originating in Queensland, South Eastern Australia, today the largest producer of macadamia nut is Hawaii. You can get the macadamia nuts, either wholesale or in retail, from any of the online sites that specialize in nuts. There are even sites that cater especially to selling wholesale macadamia nuts. Many of these are Australian, for which you should remember that macadamia nuts are also called Australian macadamia nuts or just Queensland nuts.  
One such site is the macnutswa.com.au. For their retail customers, they have a number of packaged products with macadamia nuts, but if you want wholesale macadamia nuts, or are a distributor interested in export or import, you can email them and get their wholesale price list by sending them an email. Their contact can be found on their website itself.
If you want wholesale macadamia nuts from a Hawaiian producer, you should visit maunaloamacadamianuts.com. Promising to provide you with the freshest Mauna Loa Macadamia nuts, they sell macadamia nuts in retail, as well as wholesale. In retail, you can get a great variety of macadamia nuts from them, from dry roasted, salted unsalted, honey roasted, chocolate flavored, milk chocolate flavored macadamia nuts to sugar free chocolate macadamia nuts. They also offer gift packs for macadamia nuts. To know of their wholesale rates, you should contact them from their site. One interesting feature they have is that they have shipping for more than 60 countries, so it is very likely that they will ship the nuts directly to your address.  Even if your country is not among the ones they ship to, you can still contact them and request them to ship to your place.
E-bay and Other Sites
E-bay is another great place to buy wholesale macadamia nuts. Make sure that you check the feedback history of your seller before you make a transaction with them, and check the shipping.