Chocolate Covered Nuts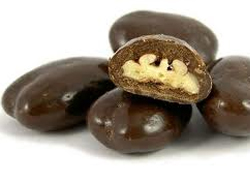 If you're craving for something crunchy and chocolaty, chocolate-covered nuts are a perfect snack to munch on. Chocolate-covered nuts are a real treat. No one can ever resist the sweet chocolate coating which melts temptingly with the tasty nut on the inside. Eating chocolate-covered nuts won't only lure our taste buds, but they also offer a number of health benefits.
Why Chocolate Covered Nuts are Healthy
First, let's talk about the health benefits of nuts. There are many different types of nuts you can choose from. You may try almonds, cashews, walnuts, macadamia nuts, pecans and many more.
Nuts possess a particular taste that perfectly matches the sweet taste of chocolate. This appetizing combination will definitely bring out a delectable taste to make you feel energized and motivated throughout the day.
Delicious nuts are filled with vitamin E which is an antioxidant that prevents damage of our cell membranes and reduces our risk for acquiring different heart diseases. Nuts can also prevent blood clot formation and prevent cholesterol from adhering to the walls of our blood vessels.
In addition, nuts contain monounsaturated fats which are considered as the right kind of fat. Monounsaturated fats are friendly to the heart because they don't increase cholesterol levels just like what saturated fats do. Nuts are also a good magnesium source, which helps reduce heart disease risk by maintaining normal blood pressure.
Now what about chocolates? There are studies which prove that eating chocolates can improve a person's mood and significantly reduce stress. Chocolate can cause our body to produce great amount of endorphins which are known as the hormones that make us feel good.
Buying Chocolate Covered Nuts
It's so evident that eating chocolate covered nuts has amazing health benefits. Also, with
its many varieties, you can enjoy eating chocolate covered nuts in many different ways. Also, you can avail these chocolates in various sizes and packages that will suit your budget and appetite. You can purchase chocolate covered nuts in big packages that can be used to garnish desserts and the like. These chocolate covered nuts are sometimes sold per piece or in bulk so you can purchase whatever amount you want. When buying chocolate covered nuts, you have to make certain to compare their brands and prices for you to get the best deals.
So, what are you waiting for? If you're looking for the best desert garnish or snacks especially this coming Holiday season, buy chocolate covered nuts and choose any of its numerous varieties and brands. You can even give them to your friends and loved ones as gifts and they will surely appreciate this mouthwatering remembrance from you. 
By the way, before opening a pack and chomping your chocolate covered nuts, do not forget to eat them moderately so you can take full advantage of their many health benefits while enjoying their heavenly taste.  Indeed, it is true that everything that's covered in chocolate tastes so much better.  With that in mind, chocolate covered nuts are certainly not an exemption.