Rivet Nut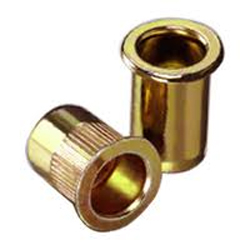 A rivet nut is an internally threaded rivet that allows it to be securely anchored from just one side. There are basically two types of rivet nuts otherwise known as blind nuts. One type is made to form a slight bulge on a panel's backside when screws are tightened in the threads. The other type is also drawn in when a screw is tightened but instead of forming a bulge it is drawn directly into a sleeve. The rivet nut was first introduced in the early 1930s by BF Goodrich and was used at that time on aircraft to mount rubber boots used for deicing. Most rivet nuts are created from anodized aluminum so that they do not conduct electrical currents.
Uses in Aviation
Rivet nuts are used widely in aviation today to secure different devices like static wicks onto airlines. They are also used to secure inspection access covers and other items and are used widely in other areas of manufacturing as well. A rivet nut typically has a flared head and a cylinder shaped body. The body contains many threads that are used to lock the fastener or screw to the nut. In order to remove a rivet nut a special tool is needed that will collapse the body and form a bead to reach the nut. Rivet nuts are used in many different industries from aviation to pneumatic and mechanical.
Ratchet Rivet Nut Tools
In order to remove a rivet nut you may need a ratcheted rivet nut tool. This is a very inexpensive device and can be used to both install and remove rivet nuts, particularly when working with various metals. The threads of the tool are very important and should be completely intact before use. Many tools require preassembly prior to use so be sure to check to see if your tool needs to be assembled before you remove or install a rivet nut. Once you have checked the tool you simply insert it by threading the nut on the tool and turning it clockwise. If you want to remove a rivet nut you will need to work counter-clockwise. You will also need to place a bolt onto your installed rivet nut to keep it from loosening and ensure that the nut will not spin while secured in the metal.
Cost
Rivet nuts come in a variety of sizes and costs. Depending on what you need them for, you may find them very affordable. They normally come in varying box sizes and costs will vary depending on whether the rivet nuts are made from aluminum or steel as well as the size. For instance, a 100 count of aluminum rivet nuts may run you around $20 while steel may be a bit more expensive. The size of each nut will also determine the cost as well as the number that you receive in each box. Tools used for installing and removing rivet nuts also come in a number of different price ranges. You can go online to various websites and get an idea of what a rivet nut will cost as well as the cost of the needed tools.