T Nuts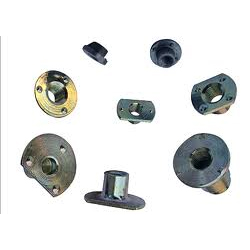 Also known as blind nut, T Nut is a kind of nut that is used to fasten a wooden work piece to a work-bench or base. With a flange at one end and a thin and long body, it looks like a T from the side, hence the name. The flanges of tee-nuts, as they are also called, often have serrations or hooks that sink into the work piece, which provides better retention and grip.
Uses and Types of T Nuts
T nuts are also used when the nut is not easily accessible, for example when it is behind a firewall. They are also useful when you do not want the nuts protruding or otherwise mar the looks of an installation. There are different types of t nuts that you can use depending on your requirements.
2 prong Rivet T Nut
As the name indicates, a 2 prong rivet T nut has 2 prongs that will affix to the base. To make up for the lesser number of prongs, the 2 prongs are usually made very strong and heavy. This ensures that they will not collapse when they are driven into wood components. The rivet portion or the body is unthreaded and makes a good lead for screwing.
Leading manufacturers of T nuts make 2 prong rivet T nuts in a variety of finishes. You can have a plain finish 2 prong rivet T nut that would have limited protection against corrosion, whereas the ones with Zinc finish have better corrosion protection.
Straight Barrel and Step Barrel T Nuts
Barrel refers to the body of the T nut. In straight barrel T nuts, the body of the nut is straight, whereas in step barrel T nuts, the body is stepped, providing better grip or holding power.
T Nut Machines
A number of machines are available in the market that help in working with T nuts. There are machines that insert T nuts into wood and plastic components. Such machines are available in hand held models, as well as in larger sizes. The advantage of handheld T nut tools is that they eliminate misalignment that happens often enough when working manually with hammer.
T nut handheld tools also allow you to work faster with their automatic insertion of the T nut into the work component. These machines require strips of T nuts to work with. These strips are also called collated T nuts.
The larger T nut machines can be hydraulic, and work quietly. These machines can work with different sized t nuts in a single operation.
Buying T nuts
You can buy T nuts in a number of online stores such as Amazon and E-bay. With both these stores, you can read the feedback of the customers, which should help you gauge the quality of the t nuts and the service of the seller. E-bay is especially good to get discounted prices. Another website to get t-nuts in t bulk is alibaba.com. There are other specialized manufacturers which you can contact for t nuts and nut tools and machines.