Fruit and Nut Baskets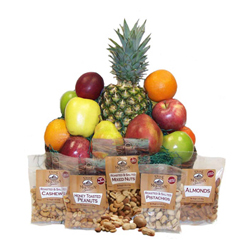 Fruit and nut baskets make wonderful gifts for any occasion. They come in a wide variety of shapes and sizes and include various types of nuts and fruits as well as candies and other goodies depending on the basket that you purchase. They are a very popular choice for Christmas and other Holiday gifts, particularly for those who need gift ideas for family members and friends who seem to have everything. They are normally filled with the most popularly chosen nuts and fruits such as almonds and walnuts as well as grapefruits, apples and even kiwis on occasion. The actual products included in the basket really depend on what you are specifically looking for. Different companies make up various different baskets and you can find many that offer completely customized baskets to include exactly what you want.
Cost
The cost of fruit and nut baskets depends on a number of things including the size of the basket, the company that you purchase it from and what specific types of fruits and nuts that you want included. You may also find that there are many options regarding adding various coffee mugs, candles and other products that may increase the price a bit. Overall, these baskets are very affordable and make wonderful gifts for virtually any occasion. You can typically find a nice smaller basket for around $15 to $20 and larger ones can cost as much as $100 or more. The actual cost that you pay will depend highly on the basket itself.
Where to Purchase
You can purchase fruit and nut baskets at a variety of traditional gift shops and specialty stores as well as many online retailers. When ordering online it is a good idea to verify the retailer just to make sure that you are purchasing from a reputable company. Most online gift basket retailers give you the option to have your purchase shipped directly to the recipient which is an excellent idea if you are purchasing the basket for someone who lives far away. You simply select and then pay for the basket of your choice and the company will ship it to your recipient along with a gift card letting them know that the gift is from you. This is an excellent way to send those holiday gift baskets to family members and friends who live far away.
Choosing the Perfect Basket
When selecting fruit and nut baskets it is important that you keep in mind the specific tastes of the gift recipient. For instance, if you are purchasing a basket for someone who does not like oranges then you will not want a basket that has this fruit included. Be sure that you know a bit about the personal taste of the person for whom you are buying the basket. You should also try to select fruits that will remain fresh for a time. You want to be certain that your gift recipient enjoys his or her basket so choose fruits that remain fresh a bit longer than others. Citrus fruits are normally a good choice as well as apples and pears.