Nut Milk Bags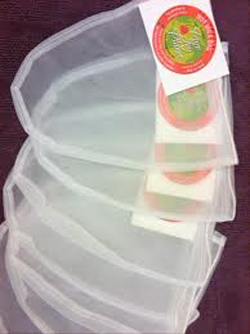 Nut milk bags are nylon, and sometimes plastic, bags that are used to derive nut milk. Nut milk is rich in all the nutrients and minerals that nuts are known for, which includes, for different nuts, potassium, sodium, copper, iron, zinc; monounsaturated fatty acids, omega 3 fatty acids, both of which are good for cholesterol. With such advantages coming with their milk, nut milk bags are the perfect product for any kitchen where healthy food is made. Here we talk about how to make nut milk using nut milk bags, and some other advantages to having one.
How to Use Nut Milk Bags
We present to you the method to get the milk out of nuts, in our case, almonds. What you will need are 22 grams of almonds, vanilla extract for flavoring, and 3 cups of water.
To start with, keep the almonds soaked in a bowl overnight for 8-12 hours. Then put them in fresh 3 cups of water, and pour them into the blender. Add the vanilla extract for taste. Blend the mix, until the puree is smooth.
Our out the puree into a nut milk bag, and then squeeze the milk out of the bag into a jar. Your almond milk is ready. You can use the pulp as an ingredient in a cookie recipe or some other recipe.
Nut Milk Bags as Sprouting Bags and Juicer
Nut milk bags are usually made out of nylon, which is made into a mesh to allow for straining of the milk out of it. Many of them also come with a drawstring that can be used to tighten the bag once a nut puree or mix is poured into them.
Apart from being used as nut milk bag as the name suggests, they can also be used to make fruit juice. To make the fruit juice, first you have to make a pulp out of the fruit. Then pour the fruit pulp into the nut milk bag, and squeeze the juice out of it into some other container. Your fresh fruit juice is ready!
To use it as a sprouting bag, you can put in legumes, pulses or seeds into the bag, but do not fill it more than 1/4th of the bag. Soak the bag overnight, for 8-12 hours. Afterwards, rinse and hang the bag in the dark with a container under it to catch any water that drips out. Nut milk bags are not just for nut milk, but for a complete healthy diet.
Where to Buy Nut Milk bags
Amazon is a great place to buy nut milk bags. You can select from a variety of brads ans manufacturers, and get great deals too. One of the biggest advantages of Amazon is the feedback that you can read for any product. You can get a nut milk bag for prices ranging from $6 per bag to $12 per bag.
With the many advantages of having a nut bag, and compared to its not too costly pricing, nut milk bags are a must have not just for a foodie, but for anyone who is interested in a healthy diet of fruits, nuts, legumes and pulses.