Nut Basket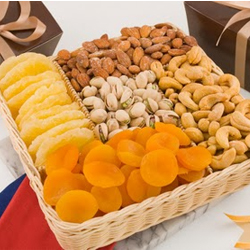 A nut basket is an excellent gift idea for corporate parties, holidays and other special occasions. They are the perfect choice when you need to purchase a gift but have no idea what to guy. Nut gift baskets are very easy to personalize to perfectly fit the person who receives them. When you buy a nut basket you can add other foods such as fruits and candies or add smaller gifts like coffee mugs, picture frames and even candles or nutcracker tools. During the holidays, nut baskets are very popular gifts that are given around the world to friends and family members as well as babysitters, neighbors, coworkers and many others.
Making Your Own
You can make your own nut basket if you prefer. You simply need to purchase a variety of different nuts as well as any other gifts that you plan to include. You will also need a basket, cellophane for wrapping the basket and various bows or other decorations. You may want to pick up a few decorative tins or packaging for keeping the nuts from moving about and for separating the various different types that you plan to include.
Purchasing Pre-Made Baskets
You can also find many nut baskets already made. These come in a wide variety of sizes, shapes and price ranges and can include many different types of nuts. Popular choices include pecans and walnuts as well as chocolate dipped or covered nuts. Pistachios and macadamia nuts are very popular as well as healthy and there are many baskets that have these included. You will need to find a store or specialty shop in your area that offers premade nut baskets or simply go online and begin looking at various retailers that ship them. You can have them shipped directly to your gift recipient if you like when you order them online. Find a retailer that offers several different designs and types of nut basket to give you a good selection. You may also want to find a retailer that allows you to customize your nut basket so that you can make it truly unique for your special someone.
Cost
The cost is going to vary greatly from store to store. On average, nut baskets containing three to five different varieties of nuts as well as various fruits and/or candies and confections cost around $50. There are those that are much less expensive and only offer one or two types of nuts as well as many that are priced at more than $100. You will need to determine what you want before you begin shopping or set your budget and then choose a nut basket that fits within what you can afford. If you select three or more different websites that offer gift baskets you can compare prices which is an excellent way to get the exact nut basket that you want at the lowest possible price. Keep in mind when shopping online that you may also incur shipping charges but the selection may be much wider with online shopping as opposed to purchasing locally.