Nut Butter Maker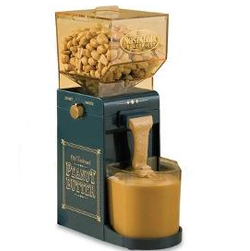 A nut butter maker will allow you to create your own homemade peanut and other nut butters. There are machines available today for personal and commercial use and nut butters are very popular today. While most people are familiar with peanut butter, many have only recently began making other nut butters from nuts such as pecans, macadamia nuts, hazelnuts, walnuts and many others. Having the ability to make different nut butters will not only give you and your family the opportunity to try delicious new tastes but could help you when it comes time for gift giving as well. Nut butters make excellent gifts, particularly when added to gift baskets and most people today enjoy receiving homemade items for the holidays and other special occasions.
Using Nut Butter Makers
Using a nut butter maker is fairly easy. The machine itself is designed to grind a variety of nuts and turn the nuts into a paste. This paste is then spread on various breads, crackers and other foods to make delicious snacks and treats. Most nut butter makers are very easy to use and very easy to clean. You will find that many of the machines on the market today that are designed for home use will come apart very easily for cleaning and can even be put in the dishwasher for a fast clean up.
Cost
The cost of your nut butter maker will depend on where you purchase them, the size, the manufacturer and the specific features or capabilities of the machine itself. You can find a small machine designed for home use that is perfect for grinding peanuts, walnuts, pistachios and other nut choices into delicious butters for around $40. Again, this will depend on the specific manufacturer as well as other factors. You can do a quick online search for nut butter makers to get a good idea of what each type costs as well as an overview of the capabilities of different designs. If you are planning to use the machine quite often you may want to spend a bit more and get a more durable design.
Benefits of Owning Your Own Nut Butter Maker
You should understand that while peanut butter itself is a fairly commonly found food, most other nut butters are not. You could look in hundreds of stores and never see almond butter or other varieties of nut butter. If you enjoy trying new things or simply prefer the health benefits of making your own nut butters then owning a nut butter maker is well worth the cost. The health benefits of making your own peanut and other nut butters include the elimination of various preservatives which will make your foods healthier and make them taste better as well. In addition, owning a nut butter maker gives you the opportunity to experiment with various nut types as well as seeds and beans to create your own delicious culinary works of art. In order to give your family the most nutritious nut butters, owning your own machine is essential.