Nut Gift Baskets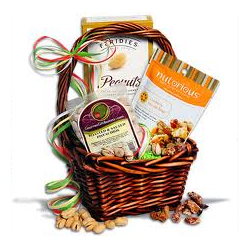 Nut gift baskets have become a very popular gift choice for many people, particularly during the holiday season. If you have someone on your gift list who lives far away or you simply have no idea what to purchase this person, a nut gift basket is an excellent choice. They make wonderful gifts for teachers, coworkers, bosses and others when you simply want to purchase a special gift. In addition to the holidays, nut gift baskets are good choices for other occasions as well such as birthdays, Valentine's Day and even wedding anniversaries. You have the ability to combine some of your gift recipient's favorite foods or candies with their favorite nuts in a beautiful basket. In addition, nut baskets are fairly inexpensive so you can use them whenever you need a thoughtful gift.
Who Enjoys Nut Baskets?
Everyone would love a nice nut basket with an assortment of delicious nuts and even a few candies or fruits sprinkled in for good measure. Nut gift baskets are an especially good gift choice if you have someone on your gift list who is diabetic as they offer foods that diabetics can eat. Older family members and friends as well as youngsters will enjoy a thoughtful nut basket as well. Given the fact that there are literally thousands of combinations and various basket ideas, you can literally buy a separate nut basket for everyone on your gift list and never give the same gift twice. Everyone from toddlers to senior citizens will enjoy a beautiful nut basket. You should check to ensure that no one on your nut basket recipient list has nut tree allergies as ingesting nuts can be fatal to those that do. Assuming that you are safe to send nut baskets to those on your gift list, you can expect a hearty thanks coming from all who receive this gift.
Cost
Nut gift baskets can be very inexpensive depending on what you select. Different nut types are of course a bit more expensive than others. If you simply want a basket with a selection of peanuts, walnuts and the sort then you should not expect to pay more than $20. However, there are so many options available today that allow you to customize your basket that you could choose a fairly large basket that offers a wider variety of nuts along with other foods or trinkets and spend upwards of $100 or more. If your budget is an issue then you should take some time and look at the various baskets that are available and get an idea of what you want. Then you can check with different retailers both online and offline and choose the basket that you want at the lowest cost. If you are ordering online remember that you may have to pay an additional shipping charge as well as the charge for the basket. However, you may notice a much wider selection of nut gift baskets online and more customization options to make your basket gifts truly unique.