Emerald Nuts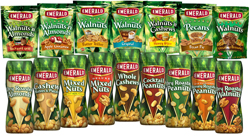 Emerald Nuts offer a wide selection of nut assortments and other healthy snacks through many different online and offline retailers. The company has been in operation for many years and is one of the most widely recognized supplier of tree nuts and other healthy foods in the nation. Today they offer twenty three different snack products under the Emerald brand name that are all available at a number of different online stores, traditional grocery stores, convenience markets, drug stores and various other retailers. Snack choices from Emerald Nuts include cashews, almonds, pecans, walnuts and various other tree nuts as well as wide assortments of mixed nuts.
Nut Assortments
Although Emerald Nuts provides some nut mixes that contain peanuts they also offer a selection that contains much fewer peanuts than other brands. They provide honey roasted peanuts as well as chipotle flavored, wasabi flavored and cocktail peanuts. Tree nut varieties include various cashews, dry roasted almonds, cashew halves, smoked almonds and several other flavors and types. In addition they provide glazed walnuts and pecans as well as flavored nuts that are very popular such as butter toffee walnuts and pecan pie glazed pecans. The company also provides different trail mixes that include various different tree nut types and assortments.
Where to Buy
Again, Emerald Nuts are available at most major supermarket chains and mass merchandising stores such as Costco, Sam's Club and Wal-Mart. You can also find them readily at most major convenience store chains and at a variety of online retail stores. You can visit the official Diamond Emerald website to find more information about their nut assortments or to find retailers in your area. Many websites also offer Emerald nuts to their customers by the bag or included in various gift bags and gift baskets. Emerald Nuts make wonderful gifts for friends and family members for the holidays and other special occasions.
Cost of Emerald Nuts
The cost for Emerald nuts is going to vary depending on where you purchase them and the specific type of nuts that you buy. You may also notice a price variation depending on the size of package that you purchase. There are various different sized packages from small ones perfect for a quick snack to those that can be used to bake pies and other treats. The cost will depend on the size that you need as well as the specific nuts that you want. Walnuts for instance tend to be a bit more expensive than pecans and peanuts. Peanuts are often the cheapest type of nut from most producers with macadamia nuts and pistachios being a bit more expensive than others. You will find different prices at different retailers, particularly if you are purchasing online. You can take your time and visit several different websites to find the lowest cost. Simply choose a few reputable sites that offer Emerald Nuts and then compare the prices from each site to get the lowest overall cost. Remember however that if you are purchasing online as opposed to buying in your local area you may also need to pay shipping costs.