Pumpkin Seeds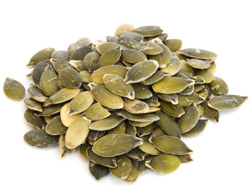 Pumpkin seeds have a nutty flavor that tastes all the more great when the seeds are toasted - sweet or salted. Pumpkins are themselves a part Halloween tradition, so pumpkin seeds are no stranger to American homes. Also known as pepitas, they are available al the year around; but since pumpkins are in season in the fall, pumpkin seeds are the freshest around that time. Pumpkin seeds are not only a great snack to much during watching a movie at home, but are also a health snack due too the nutrients that they contain. They are definitely better than many artificial snacks we have in our homes. In the next few paragraphs, we talk about their health benefits in detail, and inform about where you can purchase them.
 Nutrients in Pumpkin Seeds
It is no wonder that pumpkin seed are nutritious – because they are seeds, nature has provided them wit nutrients so they can grow up to be seedlings, and then the pumpkin plants. Apart from being rich in rich in minerals such as Iron, Copper, Manganese, Magnesium and Zinc, pumpkin seeds are also rich in protein. If you snack on only a quarter cup of pumpkin seeds, you will receive 28.7% of the daily value (DV) for iron, 46.1% of the DV for magnesium, 52.0% of the DV for manganese, 16.9% of the DV for protein, 24.0% of the DV for copper, and 17.1% of the DV for zinc. With such richness in nutrients, it is no wonder that pumpkin seeds have been used as a healthful food for a long time. American Indians consumed pumpkin foods both as nutritious food, and as a dietary supplement. Pumpkin seeds are a important part of current Mexican cuisine. With the latest research indicating how mineral rich they are, there is a renewed interest by health-conscious individuals to make them a part of their dietary life.
Where to Buy Pumpkin Seeds
With the recent upsurge in their consumption, a number of online stores have sprung up to cater to the new demand. Some of these stores specialize in supplying nuts and seeds of all kind, from peanuts, Hazel nuts to Pumpkin seeds, whereas others stock health oriented food that is nutritious.
You will find all kind of pumpkin seeds on these stores: from roasted salted seeds to organic raw pumpkin seeds, from roasted unsalted to raw ones, there is a wide choice available to you in these stores. The prices vary from around $4.99 per pound for roasted salted seeds to $8.99 per pound for organic raw hulled pepitas or pumpkin seeds. These prices are from the site ohnuts.com, are an example of the online prices of pumpkin seeds. You may get them at higher or even lower prices at some other sites; the latter especially if you buy them in bulk.
Other online stores where you may order pumpkin seeds include nutsonthenet.com, seedparade.co.uk if you are in the UK and anuts.com. Pumpkin seeds can also be brought from general purpose sites such as E-bay and Amazon. For a nutritious snack and healthier food, pumpkin seeds are always a great choice. Start today!