Holiday Nuts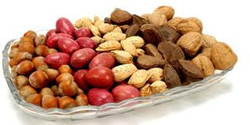 Nuts are one of the most popular foods around the holiday season – and why not, they are a staple of American kitchens all the year around, so when the Christmas season and New Year come around, people celebrate with their favorite foods. From peanut butter and jelly sandwich to pistachios, we consume a lot of nuts. Their consumption has only increased recently, more so because of the recent studies that have looked at their nutritional composition and come up with some very positive reports. The Food and Drug Administration had issued an advisory in favor of the positive health aspects of regular consumption of nuts in 2003, bringing them to much wider notice, specially for people who want to at healthier foods.
Recipes for Holiday Nuts  
Almost all of us have received at least one gift basket with nuts and other delicacies, one time or another. Peanuts, though technically not nuts, are among the most favored snacks in our baseball games and other activities. Because of their high calorie content, many Americans and people the world over use nuts as an after-workout snack. But when holidays are here, you want to consume nuts not just in these ways, but also in special recipes that contain the flavor of nuts, and the sheer of Christmas. Here are some suggestions for such recipes:
Spiced Holiday Nuts
Ingredients: 4 tablespoons olive oil, 1/2 teaspoon cayenne pepper, 4 tablespoons sugar, 1 teaspoon ground ginger, 1 teaspoon curry powder, 2 tablespoon honey, 1 1/2 cup pecan halves, 1/2 cup walnut halves
Preparation: Heat 4 tablespoon oil with medium heat in a large skillet. Add curry powder, cayenne and ginger; sauté until they get fragrant, which will take about 5 seconds. Add sugar and honey, and stir well. Add nuts and stir it well until you see the honey mixture turning to amber color, and nuts are well coated, which will happen in about 6 minutes.
Take out the nuts and transfer them to a baking sheet. Sprinkle salt. Your spiced holiday nuts are ready. You can save them for p to 3 days by storing them in a airtight container. You can also mix other nuts and seeds into this recipe to make a dish with even more variety of nuts. These include: sunflower seeds, cashew nuts and walnuts.
Holiday Nut Cups
Ingredients: Two 8oz. cream cheese, 4 sticks butter, 8c. flour; For filling: 1 dozen eggs, 2 lbs peanuts( chopped walnuts and pecans will do as well). The nuts should be finely chopped. Â Â Â 
Preparation: Make 1 inch balls out of the dough by rolling. Place them onto an ungreased muffin pan. Put a tablespoon of filling on each prepared cup of dough. After preheating the oven to 350 degree Fahrenheit, bake the cups in the oven for 15-20 minutes. Pull the cups out of the oven and let them cool. Your holiday nut cups are ready. You can either consume them right away, or store them in zip lock bags. They can last up to 6-8 months if stored properly.
With these recipes, holiday nuts add another level of fun and deliciousness to your holidays. Enjoy your holiday nuts, and share the recipes with your family and friends.