Glazed Nuts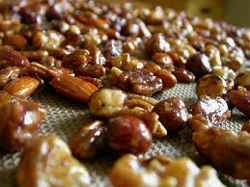 Sahale Snacks Glazed nuts cashews with Pomegranate and vanilla contain natural ingredients such as cashews and dried apples, pure ground vanilla bean and dried pomegranate. These nuts also contain monounsaturated as well as polyunsaturated fats that are also closely associated with reducing risk of heart diseases. In addition, these nuts are also free of cholesterol and do not contain Trans fat and they also have low amount of sodium.
It is safe to consume Sahale Snacks glazed nuts even if they are known to contain a few traces of peanuts as well as the odd piece from a nut shell.
Honey
Honey glazed nuts contain fresh walnuts that are glazed with some delightfully tasting honey and cinnamon as well as orange zest. These nuts are available in different sizes including in bags containing 32 ounces, 12 ounces and even 3.5 ounces.
Maple
Maple glazed nuts are everybody's favorite snacks and they are also very easy to make. In fact, if you would want to avoid having to spend a lot of money on a fancy container of glazed nuts then you should use a simple recipe which will help you make these nuts in your home and at a very nominal cost.
Homemade recipe
Homemade maple glazed nuts are easy to make and once you get hold of the right recipe you can create some truly wonderful nuts that will give you a new skill and a holiday tradition as well.
All you need to do in order to make your homemade glazed nuts is preheat an oven to about 350 degrees Fahrenheit. Next, take a baking sheet and coat it with some cooking spray and then take the nuts and spread them evenly on this sheet. You can use assorted nuts or a personal favorite nut. Bake it for about ten minutes and then remove it from the oven and allow it to cool.
The next step is to take about half a cupful of maple syrup which should be heated up in a saucepan over medium level heat. Stir it constantly and when it boils, stir in a tablespoon of plain butter. To this, add some nuts and again stir it till the nuts are properly coated. Allow the nuts time to cool and then take the syrup mixture and remove the nuts from it with the help of a slotted spoon.
Place the nuts in a bowl and to this sprinkle some spices and then toss the nuts in so that they are coated thoroughly. Now you need to take the baking sheet and then you need to spread some nuts on it. Be sure to first cover the baking sheet with some wax paper. Sprinkle some salt on this and then allow everything to dry.
Once the glazed nuts are ready, you should store them in an airtight container so as to keep the nuts fresh for as many as ten days. Your glazed nuts will, if all the steps have been followed, turn out to be delightfully delicious and is sure to become everybody's favorite snack.