Raw Macadamia Nuts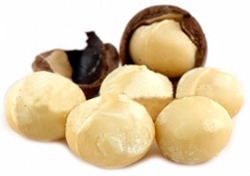 Raw macadamia nuts have to be dried at temperatures that should be on the low side. This is done in order to get the nuts to remain crispy and creamy and in addition these low temperatures also help in maintaining the nutritional content of the nuts. There are a wide variety of brands that are selling raw macadamia nuts. Depending on your needs, tastes and requirements you can choose any brand that provides you with a good product.
Azar Nut Company
Azar Nut Company sells the excellent Azar Nut Company raw macadamia nuts in 32 ounce resealable bags. This company is located in El Paso, Texas and from a small nut and candy store that was opened by Shibley Azar it has become one of the best distributors of foodservice in the entire United States.
Bergin Nut Company
Bergin Nut Company also offers some excellent raw macadamia nuts that are available in 16 ounce bags. This company was founded in the year 1951 and is an excellent source for raw nuts in bulk. It is also a Certified Organic Distributor. BulkNuts4You offer raw macadamia nuts in five pound bags while Now Foods offers them in 12 ounce bags. Living Tree Community Foods offers them in eight ounces and Better Than Roasted offers them in 7 ounces.
Glen Ivy Farms
If you are concerned about eating organic raw macadamia nuts, then you need to check out Glen Ivy Farms which is certified organic. Eating organic nuts is certainly very good for your health as these nuts will not contain any artificial substances and so assures you of maximum health benefits.
Health Best
Health Best raw macadamia nuts are available in five ounce packages. All these companies are supplying raw macadamia nuts to a public that craves for such nuts that can in fact, be used for different purposes including for topping cookies and cakes as well as a variety of snacks. These nuts are of course primarily used for adding texture as well as taste to a sugar filled snack but they are at the same time health beneficial as well which is why their popularity continues to grow.
When it comes to eating raw macadamia nuts, it pays to ensure that these nuts have been able to retain their good-for-health qualities. These nuts contain plenty of monounsaturated fats which are healthy and which are required by the body. If you add these nuts to your regular diet and also curtail the intake of harmful fats you will certainly enjoy much better health.
The fact that they contain a lot of protein is another reason why it pays to eat raw macadamia nuts. In addition, these are nuts that can also provide the human body with plenty of selenium, calcium potassium and iron. What's more, raw macadamia nuts also help the skin maintain its beauty which is why a number of skincare products make these nuts one of the ingredients to help keep the skin looking beautiful and young.
The best part is that if one consumes a few of these nuts on a daily basis they will not only get to relish the delicious taste but they will also enjoy good health.